Polio Girl: It Only Takes One
---
POLIO GIRL: It Only Takes One presents the history of polio amidst the backdrop of World War II, and The March of Dimes vaccination campaign leading into Jonas Salk declaring the product of years of research "the people's vaccine."
The world stage finds Franklin Delano Roosevelt and Hitler's right hand propagandist Joseph Goebbels displaying disparate views for treatment of people with disabilities.
Fear, shame, blame, and the stigma of polio cut razor sharp through people's lives. Families fractured. Isolation hospitals filled with nurses pumping bellows of iron lungs, scrubbing their hands raw, and wearing masks put together by volunteers using gauze and string.
Children grouped in iron lungs and on wards ceased crying when their pleas to see their parents went unmet. Parents of children wrested from their arms set up ladders reaching to the higher floors of hospitals to catch a glimpse of their child. The lives of people who realized they may have been the one to transmit the polio virus and cripple a child became haunted by guilt.
America today has only a handful of American doctors educated about polio to serve the Christopher Reeves Society estimate of 300,000 polio survivors now living in the United States. POLIO GIRL contains a wealth of information for doctors, nurses and other healthcare professionals who may have an opportunity to treat one of the 15,000,000 polio survivors worldwide.
Polio's damaging effects on the body did not end at the time of infection. Survivors went on to deal daily with long-haul symptoms for the rest of their lives. Polio did not just paralyze its victims. Speeding along the neurological tract chewing up neurons, the virus spread its destruction throughout the body. By outlining the polio virus' pathway, the book methodically presents what is often hidden from the onlooker's view. The everyday maladies of polio survivors will surprise you.
A quick-guide TOOLBOX compendium gives the polio survivor, healthcare professionals, family and friends information about common problems polio survivors face and conversation starters for engaging in dialogue to address deficits thereby improving quality of life. An extensive list of resources provides references (hyperlinked URLs in the eBook edition).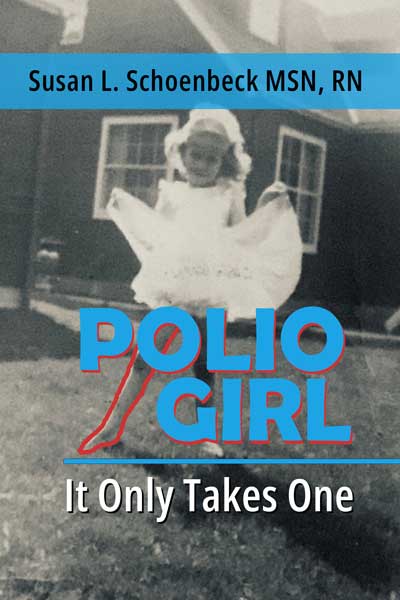 ---
---
POLIO GIRL brings the reader into the lives of polio survivors each of whom experienced poliomyelitis in a unique way. The book takes us on a journey through family members' reactions to polio in their midst, community fear, quarantines, and the disparities in treatment between the wealthy, poor and racial groups.
Struck by polio at age seven months, Susie and her family grappled not only with the unmistakable physical aspects of the disease but also the uncertainty and stigma spawned by societal norms. Schoenbeck's vivid descriptions of the distinct reactions of her parents and brother, extended family, friends, and teachers throughout her childhood and into adulthood provide insight into not only the devastating acute aspects of polio but also the long-term complications of this illness heretofore not openly discussed.
Schoenbeck's book, including the extensive well-researched information about polio the disease, is a very important resource for healthcare professionals most of whom have had little or no exposure to polio survivors. POLIO GIRL is a helpful stockpile of information for the over 300,000 people in the United States and 15 million polio survivors worldwide who continue to deal with the long-haul symptoms of polio.
Polio continues to step its footprint in other countries. This book shouts the message that viruses can damage more than is visible.
People across our planet need this book. It is touching, informational, and inspirational. I will integrate its content into psychology courses I teach and recommend it to professors of other disciplines.
POLIO GIRL reflects how many of us feel when facing seemingly overwhelming circumstances. In challenging, traumatic conditions we can choose to be angry and vengeful, or to be decent and kind.
As I read, my heart and eyes opened further and further to what it means to live with daily pain and disability. The stories help the reader understand the separateness and fear of a child alone without a voice. As a victim of childhood trauma, I heard my own cries. An advocate can make a difference. For polio survivors, that champion could be a nurse, a doctor, a family member, teacher, me, or you.
Information about the sequelae of polio and how to address a polio survivor in a person-centered way, using the tools outlined in the "Toolbox" section, mean this book is an ideal text for nurses, doctors, and ancillary healthcare staff. Professors across the healthcare spectrum will find in POLIO GIRL an understanding of the needs of people who carry with them the burden of viral disease damage.
This book is a dynamic fusion of a survivor's resilience and an artful approach to care delivery. A powerful lesson of understanding wholistic care extends beyond the physical.
---
Polio Girl is a compelling and thought-provoking personal story about a time in our history that has been all but erased by the success of the polio vaccine. The historical information interspersed throughout the story is particularly enlightening.
---
POLIO GIRL is a must read for health care providers who care for polio patients. This book gives expert patient insight into the paradigm of physical, psychological, and emotional challenges that are faced by poliomyelitis survivors.
---
As an internal medicine physician, I urge doctors to read POLIO GIRL. It is a treasure trove of information that may surprise you and help you understand and help polio survivors.
---
POLIO GIRL provides physical therapists with a resource which will increase their understanding of the multifactorial issues polio survivors face. Physical therapists are vital practitioners in helping the 15,000,000 people worldwide who face the long-haul symptoms of suffering poliomyelitis many decades before.