Polio Girl: It Only Takes One is due out June 2022
---
POLIO GIRL: It Only Takes One presents the history of polio amidst the backdrop of World War II, and The March of Dimes vaccination campaign leading into Jonas Salk declaring the product of years of research "the people's vaccine."
The world stage finds Franklin Delano Roosevelt and Hitler's right hand propagandist Joseph Goebbels displaying disparate views for treatment of people with disabilities.
Fear, shame, blame, and the stigma of polio cut razor sharp through people's lives. Families fractured. Isolation hospitals filled with nurses pumping bellows of iron lungs, scrubbing their hands raw, and wearing masks put together by volunteers using gauze and string.
Children grouped in iron lungs and on wards ceased crying when their pleas to see their parents went unmet. Parents of children wrested from their arms set up ladders reaching to the higher floors of hospitals to catch a glimpse of their child. The lives of people who realized they may have been the one to transmit the polio virus and cripple a child became haunted by guilt.
America today has only a handful of American doctors educated about polio to serve the Christopher Reeves Society estimate of 300,000 polio survivors now living in the United States. POLIO GIRL contains a wealth of information for doctors, nurses and other healthcare professionals who may have an opportunity to treat one of the 15,000,000 polio survivors worldwide.
Polio's damaging effects on the body did not end at the time of infection. Survivors went on to deal daily with long-haul symptoms for the rest of their lives. Polio did not just paralyze its victims. Speeding along the neurological tract chewing up neurons, the virus spread its destruction throughout the body. By outlining the polio virus' pathway, the book methodically presents what is often hidden from the onlooker's view. The everyday maladies of polio survivors will surprise you.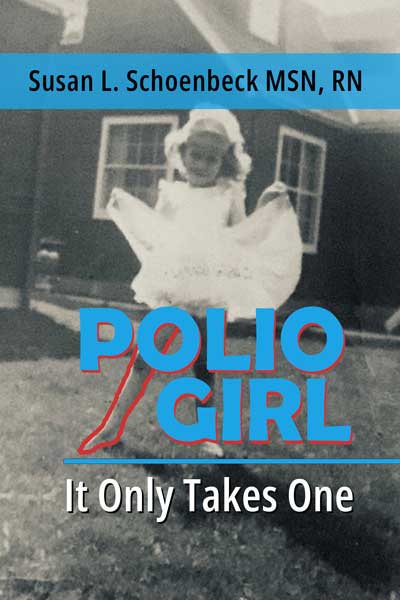 A quick-guide TOOLBOX compendium gives the polio survivor, healthcare professionals, family and friends information about common problems polio survivors face and conversation starters for engaging in dialogue to address deficits thereby improving quality of life. An extensive list of resources provides references (hyperlinked URLs in the eBook edition).